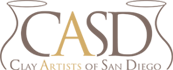 CASD General Meetings
CASD holds several general meetings for our members. It is an opportunity for socializing with your fellow local potters and learning new tips and tricks.
Fall 2012 with Dr. John Conrad
CASD member Dr. John Conrad demonstrated multiple lid techniques, shared his research with vaporizing rare metals on glazes, and signed copies of his books.
This slideshow requires JavaScript.
Spring 2012 with Nancy Creech
CASD member Nancy Creech shared her approach to making plaster molds, with audience participation.
This slideshow requires JavaScript.