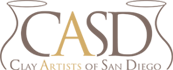 Penland Scholarship
Scholarship for a Penland School of Crafts' Summer Class In Ceramics for San Diego County Art Teachers
2017 CALL FOR APPLICATIONS ‐‐ Deadline February 17, 2017
Download Flyer
Penland School of Crafts is an international center for craft education dedicated to helping people live creative lives. Located in the Western NC, Penland offers 1‐, 2‐, and 8‐week workshops in books, paper, clay, drawing, glass, iron, metals, painting, photography, printmaking, letterpress, textiles, and wood. Penland welcomes serious students of all levels of experience and backgrounds (minimum age 18). Some workshops are tailored for beginners and some require prior experience; most welcome a range of skill levels. A full list of Penland classes is available at www.penland.org.
The Clay Artists of San Diego Scholarship is a special scholarship for residents of Southern California who teach art in both public and private sectors in the San Diego County. The recipient will receive full tuition, room, and board for a one or two-week summer session in clay at Penland and a stipend of $250 to assist with travel and materials. This scholarship is funded annually by the Clay Artists of San Diego, a non-profit 501c3 organization (http://www.clayartistsofsandiego.org/).
To Apply:
Go to www.penland.slideroom.com. Scholarship applications must be made online, using Slideroom, by midnight on February 17, including 2 letters of reference. Scholarship applicants pay a nonrefundable $50 processing fee. Applicants will be notified by April 1.
NOTE ‐ To apply for the Clay Artists of San Diego Scholarship, select the scholarship type Full Scholarship and check the box I am an Art Teacher in San Diego County. Please read the descriptions of all scholarship types and the other special qualifications for each. SELECT ALL THAT APPLY. You may be eligible for additional scholarship awards.
For questions, please contact the following people:
Penland:
Amanda Hollifield, Penland Registrar
registrar@penland.org
828.765.2359 ext. 1306
CASD:
Merle Lambeth, CASD president
casd.info@gmail.com
858.735.5559