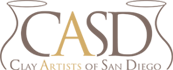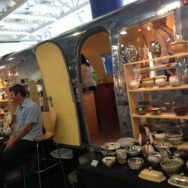 Artstream Spring Tour
Date:

Apr 4, 2017
Ages:
Price:
Type:
Location:
April 4: Pitzer College, Claremont, CA
April 5: AMOCA, Pomona, CA
The Artstream Nomadic Gallery has been putting contemporary ceramic art on the street since 2002. It is a traveling exhibition space housed in a restored 1967 Airstream trailer. Based in Carbondale, CO, over the past 14 years it has exhibited in more than 150 locations, from Los Angeles to New York, Houston to Minneapolis.
The Spring Tour Schedule ends in the LA area.
April 4, 2017
Pitzer College, 1050 North Mills Ave, Claremont, CA
9:00am-5:00pm Artstream open, Grove House and Clock Tower.
9am-12:30pm and 1:30-4pm Pitzer Ceramic Studio, Pitzer College, Workshop demonstrations by Doug Browe, Ben Carter, Julia Galloway and Alleghany Meadows.
Lecture 4-5:30pm Julia Galloway & Alleghany Meadows
April 5, 2017
American Museum of Ceramic Art, (AMOCA), 399 North Garey, Pomona, CA
12:00-5:00pm Artstream open
12:00-3:00pm Demonstrations by Doug Browe, Ben Carter, Julia Galloway and Alleghany Meadows
3:00-4:30pm Lecture by Ben Carter & Doug Browe