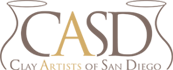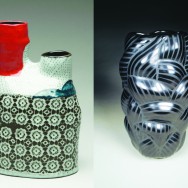 2x2x2 : 2 Days – 2 Potters – 2 Styles
Date:

Oct 11, 2014
Ages:
Price:
Type:
Location:
CASD presents 2x2x2:
2 Days – 2 Potters – 2 Styles
Eric Rempe and Ashley Kim
October 11-12, 2014
9 am – 4:30 pm
Coronado High School
$60 CASD members
$75 non-members
We invite you to share 2 days with 2 local potters who have 2 different approaches to working with clay. Eric Rempe will demonstrate throwing and altering, along with glazing and sandblasting that relates to his cone 10 gas fired work. Ashley Kim will discuss and demonstrate her hand building, construction and decorating techniques, which she fires to cone 6 in an electric kiln. Each potter will take you on a journey of how they approach and design their unique style.
Eric received his BFA from Penn State and his MFA from SDSU and is currently a full time instructor of ceramics at Coronado HS. Eric's work has been exhibited extensively across the country earning him awards and placing his work in permanent collections.
Ashley received her BFA from Utah State University and her MFA from Indiana University Bloomington. Over the past 4 years she has been selected to exhibit in several shows from coast to coast. Both potters are members of the San Diego Allied Craftsman and were part of their show at the Mingei Museum in 2013.
For more information about these potters, please visit their websites:
To sign up for this workshop, please print and fill out the Registration Form.
Make your check payable to CASD and mail them to:
CASD
PO BOX 16747
SAN DIEGO, CA 92176