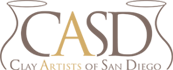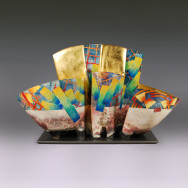 AMOCA 10th Anniversary Show
Date:

Feb 21, 2015
Ages:
Price:
Type:
Location:
Honoring the Past, Embracing the Future
AMOCA's 10th Anniversary
 

February 21 – June 28, 2015
The American Museum of Ceramic Art (AMOCA) is honored to present Honoring the Past, Embracing the Future: AMOCA's 10th Anniversary an exhibition featuring a selection of ceramic art from the museum's permanent collection to celebrate its past 10 years.
Guest Curator Jo Laura explains: "These masterworks represent the high points in the history of ceramics, with a focus on the nineteenth century to the present. This showcase will include the big, bold, and daring conjoined with the intimate, refined, and pristine; the handcrafted opposed with the industrial; the abstract counterpoised with the figurative; and the vessel juxtaposed with the sculptural. The exhibition will give a view to the aesthetic horizon of the ceramics landscape, revealing the achievements of the past and positing possibilities for the future.  Visitors will experience the fascinating story of three centuries of ceramic production, narrated through exemplar objects that connect the traditional with the contemporary, transverse borders and civilizations, embrace experimentation, and intersect, reflect, and interpret diverse cultures. This visual feast will be told in thematic groupings that include monumental figures, over-the-top baroque vessels, a parade of cups and teapots, and a circus of animalia sculptures, among other delights."
The exhibition will lead you through five themes, exemplifying our permanent collection: Old Guard/Vanguard/Masters of Medium, Figurative/Portrait work, Global/Cross Cultural, Menagerie, and Teapots/Cups/Pitchers. On view will be work from major donors such as David and Julie Armstrong, Frieda Bradshear, Bill Burke, Spencer Davis, Bob & Colette Wilson, James and Jackie Voel, Gail M. & Robert A. Brown, and Enrique Serrato.
AMOCA's 10th Anniversary Celebration, "A Night at the Museum: Where Art Comes Alive", will be held on Sunday, March 15, 2015, 5:30-9:30pm: tickets and information online.