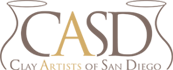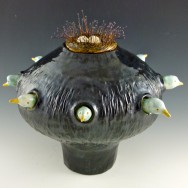 CONTAIN YOURSELF II
Date:

Aug 29, 2012
Ages:

all
Price:

free
Type:

member show
Location:

1770 Village Place, San Diego, CA
CASD annual member show at Gallery 21
Aug. 29, 2012 through Sept. 10, 2012
7th juried ceramic exhibit by the members of Clay Artists of San Diego
 Artists reception, September 1st, 5 – 7 pm
ELIGIBILITY / ENTRY FEE / AWARDS
Work should be original designs and must follow the theme of "Contain Yourself II" including; container, jar, teapot, vase, planter or sculpture that conveys contain yourself.
Open to members of CASD over 18 years of age. Only made from at least 80% clay materials will be eligible.
There is a nonrefundable entry fee of $20 for the first two entries; $5 for each additional entry (up to 4 total). Check should be made payable to CASD, Inc.
There will be CASH AWARDS presented for Exceptional Merit and Honorable Mention.
CLICK HERE FOR THE ENTRY FORM
CLICK HERE FOR THE PROSPECTUS
SPECIFICATIONS
All exhibited work must be for sale and

remain in the exhibit until the close of the show on September 10

. A 20% commission will go to SVAC Gallery 21.
Submit only original ceramics executed within the last 2 years, not previously exhibited in Gallery 21, and suitable for family viewing.
Work must be of original design and not copied. Work done under the direct supervision of an instructor or work requiring special installation or handling will not be accepted.
The juror, CASD and Gallery 21 reserve the right to disallow a work that does not meet the specified criteria as listed in the prospectus.
Wall pieces must have a hanging device suitable for wall hanging. Work may not exceed 40″ in any direction. Work requiring a pedestal must be not more than 15″ wide. No work requiring electricity.
Gallery 21 is open 7 days a week from 11:00 am to 4:00 pm. All artists with accepted work will be asked to sit the gallery for 2.5 hours on a selected day or volunteer for another job. If unavailable, a $20.00 fee may be charged.
Each artist will be asked to provide an artist statement to be dropped off with the pieces. If the work is accepted the statement will be available for guest viewing and may contain artist contact info for future sales.

This year's juror is Nan Coffin. See below for more information about the juror.
GENERAL INFORMATION
A catalog will list all works in the show and awards. Permission to photograph and reproduce entries is assumed granted unless reserved in writing at the time of submission. Gallery 21 and The Clay Artists of San Diego do not carry insurance to cover your ceramic pieces and accept no liability in case of damage, loss or theft. All entries will be given the utmost care; however it is recommended that the ceramists insure their own work.
For more information please contact:
Michelle Campbell (760-814-7256, brennan053@yahoo.com) or CASD  (info@clayartistsofsandiego.org)
SHOW SCHEDULE
August 29 ,12:00pm – 7:00pm
Artwork along with your application, artist statement and payment must be hand delivered to Gallery 21, Spanish Village Art Center, 1770 Village Place, Balboa Park.
August 30, 1:00pm – 6:00pm
Installation of exhibit. Please return to the Gallery to pick up unaccepted work. The artists must pick up unaccepted work at this time.
August 31 – September 10 11:00am – 4:00pm
Gallery open for visitors.
September 1, 5:00pm – 7:00pm
Artists Reception. Awards presented at 6:00pm
September 10, 4:00pm – 6:00pm
Exhibit closes. Removal of Art
Please return to the gallery between these hours. Artists or representatives with written permission, will need to pick up unsold work. Work not picked up will become the property of CASD, Inc.
JUROR INFORMATION
Nan Coffin's clay career began in central Indiana in the mid-1970's. She is a self-taught potter, although many influences have come from other potters, books, trade journals, and the many clay workshops and conferences she has attended. Nan moved to southern Indiana in the mid '80s and started Log Creek Pottery and studio gallery. At Log Creek Pottery she made a variety of functional wares, from majolica to stoneware and porcelain woodfired pottery.
In 2001, Nan relocated to San Diego where she continues as a studio potter, sharing clay and kilns with her potter husband, Richard Burkett. Nan also worked with the Studio Potter Network, helping to coordinate efforts of studio potters, guilds and organizations. More recently she has been the Vice President of the San Diego Potters' Guild.
When she can, she enjoys working on projects in the Amazon basin of Ecuador with Richard Burkett and Joe Molinaro (a professor at Eastern Kentucky University), working to photographically document the indigenous pottery cultures that region of Ecuador.
Click here for more of Nan Coffin's work