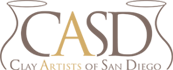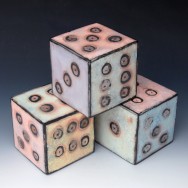 Coloring with Terra Sigillata Workshop
Date:

Apr 12, 2014
Ages:
Price:
Type:
Location:
"Coloring with Terra Sigillata"
Workshop by Pierre Bounaud
April 12-13 & 19, 2014
San Diego, CA
The workshop will take place at Pierre's home studio, over the course of one week-end (April 12th 2 – 5pm, April 13 10am – 5pm) and the following Saturday (April 19th 9am – 1pm). It will be a small group, with 5-6 students at a time, for maximum one-on-one interaction.
In this hands-on workshop, you will learn how to make your own terra sigillata, how to mix in a wide range of colors, and how to apply to greenware to create your own original designs. You will bring 3 dried pieces (greenware), no bigger than 10 inches in any direction, for practice. They will be bisqued then they will be prepared for a low temperature saggar firing. At the end of the workshop, you will leave with close to half a gallon of terra sigillata, both white and colored, for your own use, and the skills to make much more !
Download the flyer for more details.