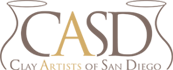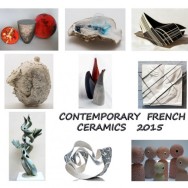 Contemporary French Ceramics
Date:

Apr 29, 2015
Ages:
Price:
Type:
Location:
Contemporary French Ceramics
Gallery 21, Spanish Village Art Center
Balboa Park, San Diego CA
April 29 – May 11, 2015
Reception: May 2, 2015
French ceramic artists will arrive in San Diego early Spring 2015 for a visit of 4-7 weeks. During their stay at several local artists' studios, they will create original work and will be available to teach and present their work at several venues around San Diego. Their visit will culminate with a two week exhibition of the newly created work at Gallery 21. This is a unique opportunity for San Diego to discover emerging and established French ceramic artists !
Martha Banuelos – stoneware bas-reliefs
Jana Bednarkova Kenney – hand-built ceramic sculpture
Jean-Francois Bourlard – large jars, Raku. Check out his Raku YouTube videos !
Marie-Laure Guerrier – porcelain vases, sculptures
Chris Gullon – lacquered and pit-fired earthenware
Sylvie Ruse – earthenware vessels
Daniela Schlagenhauf – porcelain paper clay sculptures
Sandrine Tonnelier – hand-built stoneware sculpture
Martha Banuelos
Jana Bednarkova Kenney
Jean-Francois Bourlard
Marie-Laure Guerrier
Chris Gullon
Sylvie Ruse
Daniela Schlagendhauf
Sandrine Tonnelier
This slideshow requires JavaScript.