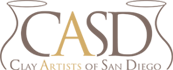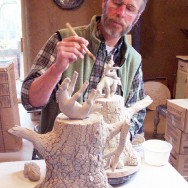 Dennis Meiners Workshop
Date:

Sep 17, 2012
Ages:
Price:

$125
Type:

workshop
Location:

8186 Center Street, Suite C, La Mesa
Bookings
Pursuing Narrative Surfaces for Expressive Pots by Dennis Meiners
Hosted by Gets Centered Clay Studio
Date:Monday and Tuesday,  September 17 & 18, 2012
Hours: Demonstration  9am-noon – (lunch break)- 1pm-4pm  independent creating
Dennis' presentation will focus on the possibilities that arise from making slabs by hand, rather than with machines, and will demonstrate the advantages of this process for discovering what we each have to say through the ceramic process.  This is a simple, fun, low-tech way to use clay.  Dennis will demonstrate scoring, stretching, stamping, sprigging and overlays that he uses to produce what he refers to as psychodramas on the surfaces of his utilitarian and sculptural pots hand-built from slabs.  Workshop participants will have the opportunity to see a way of working with clay that requires little other than a good table, homemade tools and an ability to be observant and open to what the art-making process offers. Dennis uses cone 10, stoneware fired in a reduction atmosphere, but the possibilities he will present are applicable to any clay or firing method.  Students will learn how to make and use rolling stamps and sprig molds to create their own iconography.