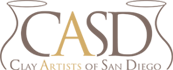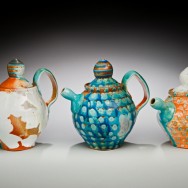 Engaging Ceramic Surfaces
Date:

Feb 1, 2013
Ages:
Price:
Type:

workshop
Location:
Bookings
ENGAGING CERAMIC SURFACES
Presented by Potters Council
Hosted by Jackpots Pottery and Get Centered Clay
February 1-3, 2013
San Diego, CA
Featured Presenters: Sandra Blain, Debra Fritts, Bryan Hopkins, Meredith Host, Mark Knott, and Justin Rothshank
Potters Council is bringing together six extremely talented and engaging artists to share their surface techniques with you. This two-day conference will be filled with ways to build depth by layering through many different mediums, altering, and combine throwing with handbuilt pieces that will result in you producing fresh ideas in your studio. Whether you throw, handbuild, or sculpt this conference has something for you to take back to your studio. This conference is open to artists at all levels: from enthusiastic amateur, to the teacher, and for the professional. No matter what level you are, if you're open to learning and connecting with other ceramic artists then this is the conference for YOU!
For more information: Potters Council