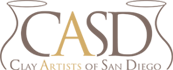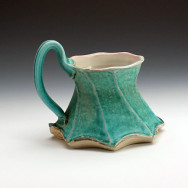 Gay Smith Workshop
Date:

May 2, 2015
Ages:
Price:
Type:

workshop
Location:

650 Avenue D, Coronado, CA
Clay Artists of San Diego Presents:
A Demo Workshop with Gay Smith
"Fresh and Sassy, Altering on the Wheel and Beyond"
May 2, 2015
9:00 a.m. – 5:00 p.m.
Hosted by Coronado H.S.
650 Avenue D, Coronado, CA 92118
$40 for CASD Members, ACS Member & Potters' Guild Members
$50 for non-members
Gay Smith Workshop Registration
Exciting and easily utilized techniques of altering the surface and forms of freshly thrown, soft clay will be demonstrated. Using these techniques, along with some simple tips, can make your pots look lively. These techniques are easily incorporated into your own work. We'll cover faceting, fluting, impressing, ovaling, squaring, triangulating. We'll follow our interests by engaging in lively conversations that can include how to follow your own aesthetic to marketing to single firing to soda firing.
Gertrude Graham Smith, nicknamed Gay, is a studio potter near Penland, NC. She held artist-in residencies at the Archie Bray Foundation in Helena, MT and at Penland School in Penland, NC. Her teaching credits include workshops at Penland, Haystack, Harvard, and Findhorn, Scotland. Her work is represented in the U.S. and internationally. Gay's work has been featured in Ceramics Monthly, several Lark books, Making Marks and Functional Pottery by Robin Hopper and Susan Peterson's Working With Clay. She currently serves on the Board of Trustees of Penland School of Crafts.
You can view more of Gay's work on her website.
If you would like to sign up for this workshop, please print and fill out the Registration Form.
Gay Smith Workshop Registration