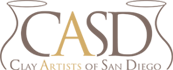 Geil/Coleman Kiln Firing Workshop
Date:

Dec 15, 2012
Ages:
Price:

$120
Type:

workshop
Location:
Mt. San Jacinto College Ceramics Club presents a Geil/Coleman 3-Day Kiln Firing Workshop, December 15 – 17, 2012.
Location: Mt. San Jacinto College 28237 La Piedra Rd., Menifee, CA 92584
Tel: (951) 639-5582
Cost: $120.00 per person (We are accepting 40 participants)
Spaces are limited! Reserve your space now!!
What this course will cover:
1) How gas kilns fire starting from the basic functions of firing a gas kiln, types of kilns, construction materials used in kilns, and different techniques of firing the kiln.
2) Myths, misconceptions, and superstitions about firing a kiln.
Day 1: Saturday, Dec. 15th, 8:00 am-4:00 pm
8:00am-9:00am:
● Introduction & Workshop Outline
9:00am-12:30pm:
● Glaze techniques and applications
● Glaze in Spray booth
● Discuss types of glazes; Shinos, Copper Reds and Celedon, etc..
12:30pm-1:30pm: Potluck Lunch
1:30pm-4:00pm:
● Load Kiln: loading and firing theory
Day 2: Sunday, Dec. 16th, 9:00 am- 4:00 pm
9:00am-12:30pm:
● Firing the Kiln
a) Basic functions of gas fired kilns.
b) Kiln controllers
12:30pm-1:30pm: Potluck Lunch
1:30pm-4:00pm:
Demonstrate throwing techniques for Porcelain.
● As kiln is firing, continue firing theory and controller discussion.
Day 3: Monday, Dec. 17th, 9:00 am- 12:00 pm
9:00am-12:00pm:
● Unload Kiln
● Critique/discuss glaze results