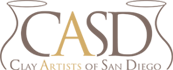 Jeff Oestreich Workshop
Date:

Feb 23, 2013
Ages:

all
Price:
Type:

demonstration
Location:

650 Avenue D, Coronado, CA
"Rediscover Form through Altering" with Jeff Oestreich
Presented by the San Diego Potters' Guild
February 23rd and 24th, 2013
Coronado High School
Join us for a weekend workshop with Minnesota potter, Jeff Oestreich. Our workshop starts with a presentation of images that span his career as a potter since touching clay for the first time at Bemidji State University in 1965 to his November 2012 residency at the Bernard Leach Pottery in England. Jeff returned to the pottery where he apprenticed in the late 1960's working in the same corner which is now a museum. During our weekend workshop Jeff will reflect on the changes and influences on his work over this forty-year period.
Although he still uses the wheel, his work now employs a variety of altering techniques, some passed down thru the centuries and others invented to produce a certain effect. He will demon-strate all his methods of taking a wheel thrown form, coaxing it along, and producing a new shape that reflects his interest in Art Deco design which he discovered in New Zealand in 1991. Jeff will also talk about decoration, the soda firing process and other issues related to a potter's life, from how ideas get generated to how to keep the relationship of clay alive over the long haul. Central to the weekend is the importance of paying attention to detail and function.
If you are interested in attending please email sdpgworkshop@sbcglobal.net for more details.