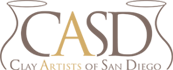 Kazegama Firing w/ Steve Davis
Date:

Aug 25, 2012
Ages:
Price:

$110
Type:

workshop
Location:

1400 E.Pomona St., Santa Ana, CA
Bookings
"Kazegama Firing" with Steve Davis
Hosted by Aardvark Clay & Supplies
Dates: August 25&26 2012, 8 am – 5 pm
Experience the wood fired look! Steve Davis's revolutionary kiln gives wood-fired results in just 6
hours. For more information and preparation instructions visit WWW.KAZEGAMAS.COM
12 students maximum. Lunch provided on Saturday.