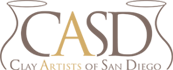 Patrick Crabb Workshop
Date:

Jun 30, 2012
Ages:
Price:

$200
Type:

workshop
Location:

1400 E.Pomona St., Santa Ana, CA
Bookings
Form & Function: Plates & Platters by Patrick Crabb
Hosted by Aardvark Clay & Supplies
Dates: June 30th & July 7th 2012, 9 am – 4 pm
This 2- day session workshop will enhance your confidence in working with soft slab construction in
concert with handmade plaster molds, creating uniquely original platters & plates for daily usage. From
hands-on approach in mixing plaster to tips on raw clay surface treatments to colorful glaze pattern, the
techniques will increase your competency and confidence as a craftsperson from this exciting workshop.
You will be proud to serve family and friends from these beautiful, functional items! 12 students max.
Lunch provided