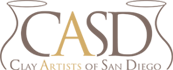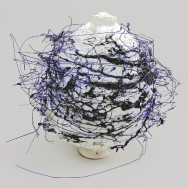 "RAKU PUNK" Demonstration
Date:

Apr 25, 2015
Ages:
Price:
Type:
Location:
RAKU PUNK
Raku Demonstration by
French Visiting Artist Jean-Francois Bourlard
Saturday April 25th, 2015, at 4 pm
Get Centered Clay Studio, La Mesa
Ticket Price: $20
 My work explores the limits of the ceramic medium, whether in the form of vases, sculptures or installations.
I manipulate the forces and movements produced during firing, while adapting to specific kiln conditions (electric or gas). I create juxtapositions of glazes and enamels on stoneware and porcelain, while also experimenting with the positioning of pieces within the kiln (by suspending, on a spindle, etc).
Using fire I reconstruct matter and volume.
see videos of Jean-Francois on YouTube.