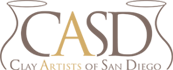 Simple "Soft Slab" Pottery w/ Scott Young
Date:

Sep 22, 2012
Ages:
Price:

$100
Type:

workshop
Location:

1400 E.Pomona St., Santa Ana, CA
Bookings
Simple "Soft Slab" Pottery with Scott Young
Hosted by Aardvark Clay & Supplies
Date: September 22nd 2012, 9 am – 4 pm
We'll focus on using "soft slab" building to incorporate "dart" clay cut outs and "fold" method to create
simple pottery like one slab plates, folded bowls & trays. To personalize your pots we'll explore the
stamp texture surface by bringing your own small found objects to impress into the soft slab prior to
fabrication and if time permits, explore some creative options for feet and handles.
Participants should have intermediate to advanced throwing experience.
10 students maximum.
Lunch provided.