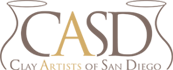 Soda Firing w/ Steve Davis
Date:

Jul 21, 2012
Ages:
Price:

$110
Type:

workshop
Location:

1400 E.Pomona St., Santa Ana, CA
Bookings
"Soda Firing" with Steve Davis
Hosted by Aardvark Clay & Supplies
Dates: July 21&22 2012, 8 am – 5 pm
Soda firing is similar to salt firing, but with its own character. Students will make use of flashing slips and
studio glazes and also learn to wad and load their pieces into the kiln. Resulting surfaces from this
atmospheric firing process range from orange flashing, carbon trapping, and orange peel textures. 8 students maximum.
Lunch provided on Saturday