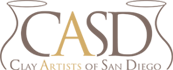 Stretched Slab Demo by Scott Young
Date:

Sep 1, 2012
Ages:
Price:

$65
Type:

Demonstration
Location:

1400 E.Pomona St., Santa Ana, CA
Bookings
Exploring "Stretched Slab" Possibilities with Scott Young
Hosted by Aardvark Clay & Supplies
Date: September 1st 2012, 8:30 am – 12 pm
This slab demonstration will focus on preparing a thicker piece of clay and explore textured surface
options like impressed marks, incised linear marks, colored clay inlay and/or colored slip layering.
Next, "throwing" and "Stretching" out the thick block of clay into a even wall slab, hoping to capture
clay's plasticity and surface texture. If time permits, use these slabs to create simple one slab plates &
cylinder vases. 12 students maximum.
Demo only.