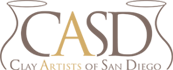 CASD General Meeting
Date:

Oct 28, 2012
Ages:

All
Price:

Free
Type:

CASD meeting
Location:

6501 Linda Vista Road, San Diego CA
"All Those Lids"
CASD General Meeting with Dr. John Conrad
Sunday October 28, 2012
1:00 pm to 3:30 pm
Francis Parker School
Please join us at our next CASD General Meeting for a demo by one of our favorite members, Dr. John Conrad.
John will present a throwing demo on how-to-make several different types of lids including Flat, Jam, Ginger, Wave Cut, Drop Lid, Dome, Tea Pot, and more. He will also speak about the history of lids and why they are made that way. There are a number of types of lids which are used when throwing  pottery. Lids provide a focal point of interest for the jar or pot, and  as such require thought in producing a lid which both fits the pot  literally and aesthetically. John has described this demo as fast and full of great information.
Also at this meeting, we will be giving away signed copies of several of John's books, and selling our leftover Mudfest T-shirts and handmade mugs.
 If you would like to be added to our CASD website Member's Gallery, we will have a photo booth ready to take photos  of one of your pieces.
We hope you will have time to come join us and take part in our free General Meeting. It's a great time to learn some new skills, visit with others members, and learn of upcoming events. And if you are considering of joining CASD, it is a great opportunity to meet its members.
 As always, we will supply some light refreshments.