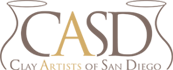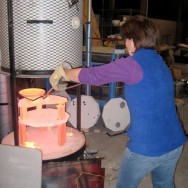 CASD Raku Workshop
Date:

Mar 2, 2013
Ages:
Price:

$60/$85
Type:

workshop
Location:

6501 Linda Vista Road, San Diego CA
Raku Workshop
March 2nd & 3rd, 2013
Francis Parker High School
6501 Linda Vista Rd, San Diego CA
$60 for CASD members
$85 for non-members
Clay Artists of San Diego is pleased to offer a hand-on Raku workshop, moderated by Pierre Bounaud and Steve Cook at Francis Parker High School. The workshop is split in two days, March 2nd (1pm – 4pm) for Raku introduction and glazing, and March 3rd (9am – 5pm) for the firings. Traditional Raku firing, as well as Naked Raku and Horsehair firings will be offered. Workshop is limited to 8 participants.
Bring 5 -7 bisque stoneware pieces, no larger than 1 foot in any direction. For the Naked Raku and Horsehair techniques, it is best to have the pieces burnished and covered with terra sigillata for a smooth buffed finish.
For more information please contact: Pierre Bounaud (email).