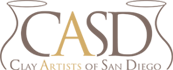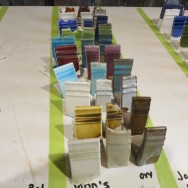 Cone 6 Ceramic Glaze Workshop with John Britt
Date:

Jan 23, 2015
Ages:
Price:
Type:
Location:
Cone 6 Ceramic Glaze Testing
With John Britt
January 23-25, 2015
9:00 a.m. – 4:30 p.m.
El Cajon Valley High School, El Cajon CA
Registration Deadline: December 30, 2014
Early Registration Discount by Dec. 10, 2014 (Save $25 !)
$250 for CASD and ACS Members
$285 for non-members
SOLD OUT
CASD is pleased to present John Britt for a 3-day hands-on glaze workshop (oxidation and reduction, cone 6). John is a studio potter in Bakersville, North Carolina, and has worked and taught extensively, both nationally and internationally, at universities, colleges and craft centers, for over 30 years. John is also an accomplished author of ceramic books and e-books, notably  "The Complete Guide to High-Fire Glaze; Glazing & Firing at Cone 10", "The Quest for the Illusive Leaf Bowl and Other Assorted Articles", "Aventurine Glazes" and his most recent book "The Complete Guide to Midrange Glazes: Glazing and Firing at Cone 6". For more information on John, please visit his website at http://johnbrittpottery.com





Workshop Description
This is a three day Cone 6 glaze testing workshop designed to show participants how to test a base recipe and get various colors (color blend) as well as strength of colors (progression test). It will also be a general overview of ceramic glazes, focusing on but not limited to cone 6 glazes. We will discuss clays, slips, cones, kilns, firing dynamics and principles as well as applying those principles to various firing cycles. This will lead us into some basic classifications of glazes, like ash, celadon, temmoku, etc. We will discuss how and why each type of glaze works and how you can achieve them, how to adjust your glazes and how to find new ones. We will discuss glazes from John's new book: "The Complete Guide to Mid-Range Glazes: Glazing and Firing at cone 4 – 7", but will go into more detail than the book allowed. The workshop is for beginner to advanced ceramic artists and is limited to 20 participants.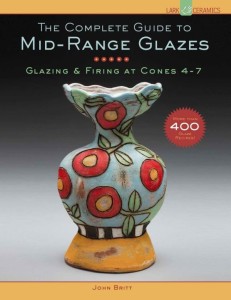 If you would like to sign up for this workshop, please print and fill out the Registration Form. For more information please contact: Merle Lambeth at casd.info@gmail.com or Pierre Bounaud at pierre@pierrebounaud.com.