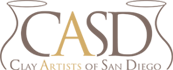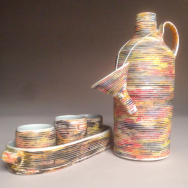 Sam Lopez Workshop
Date:

Apr 30, 2016
Ages:
Price:
Type:
Location:
Clay Artists of San Diego Presents:
"Drink Up", a Workshop with SDSU MFA Candidate Sam Lopez
April 30 – May 1, 2016
9 am – 4:30 pm
$50 for CASD Members*
$75 for non-members
Hosted by Coronado H.S.
Join us for a fun filled weekend while Sam Lopez demonstrates his techniques for throwing drinking and pouring vessels out of porcelain. He will be making pitchers, dispensers, flasks, and funnels along with various vessels for spirits. Sam will take us through his applied surface decoration using slips, tools, stencils and Amaco Velvet Underglazes. There will be plenty of time for Q&A during the workshop regarding porcelain throwing techniques and a thoughtful discussion of matching forms to beverages.
Sam Lopez, currently pursing an MFA in ceramics at San Diego State University, is a potter who works primarily in porcelain and focuses on throwing and altering forms that reflect his experiences with the natural world. This will be Sam's first workshop in San Diego but his fourth summer working with the Idyllwild Arts Summer Program. We are thrilled to have him share his work and skills with us here in San Diego.
Sam's work is currently on view at AMOCA as part of the "Lineage" Show (http://www.amoca.org/lineage/) and at the Companion Gallery show in Tennessee "Last Call" (http://companiongallery.com/).
If you would like to sign up for this workshop, please print and fill out the Registration Form.