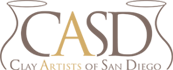 AMOCA Workshop: Sculpting with Wheel-Thrown Elements
Date:

Sep 22, 2012
Ages:
Price:

$65/$85
Type:

workshop
Location:

399 North Garey Ave. Pomona, CA
Bookings
By Dora De Larios
September 22, 2012 9:00am-4:00pm
Learn how Dora De Larios uses wheel-thrown elements in her large handbuilt sculptures and installation pieces. In this workshop, Dora will demonstrate how she uses different parts of wheel thrown bodies combined with slabs and handbuilding techniques inorder to create unique sculptural forms. One of the featured artists in AMOCA's Common Ground: Ceramics in Southern California 1945-1975 exhibit, Dora has spent years refining and defining her unique style.