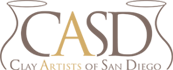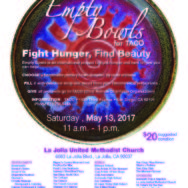 Empty Bowl for TACO 2017
Date:

May 13, 2017
Ages:
Price:
Type:
Location:
Saturday May 13, 2017
11 am – 1 pm
La Jolla United Methodist Church
Empty Bowls is a grass roots project which raises funds to help feed the hungry. Potters donate bowls, Restaurants and Bakeries donate soups and breads, Many people donate their time; all to create this event. The public comes in, and for a donation of $20 each, selects their own bowl, enjoys the soups and breads. We also have the music of "Gone Tomorrow Bluegrass Band" playing for our enjoyment. Our Empty Bowls event donates our money to TACO (tacosd.org).