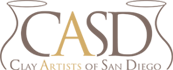 Video Library
CASD Video Library
A number of videos from renowned ceramic artists are now available to CASD members by mail (link below). A member can rent one DVD at a time for a maximum of two weeks from the postmark date. The fee is $5 to cover postage and shipping materials. Late fees of $2 per day per video will be charged if the DVD is not returned by the two week mark. To start renting a video, print and fill out the application form and mail it with your payment to CASD.
Video loan agreement and application form
Here are some of the reviews from our members:
"I just watched the Beth Cavener Stichter, NCECA Demonstrating Artist DVD. This is incredible watching her build her huge solid sculpture. She shows you how she makes/uses armatures, throws large pieces of clay on it to rough out the form. It is amazing how quickly she gets a piece built before she starts the laborious hollowing out. She explains how she hollows out her pieces. Even if you're not into sculpture you would find this amazing." C.T.
"I thoroughly enjoyed the Sandi Pierantozzi Videos. Her detailed explanations are easy to follow. She is so at home with handbuilding and its innovation possibilities." M.R.
"The Val Cushing Video arrived Saturday and I finished watching it last night and found it thoroughly engrossing and worthwhile from my front row living room seat. The content is divided into 4 sections:
A Life of Clay, 17 minutes. As video date is 2005 and Cushing was born in 1931, he is 74, as he talks to you from his potter's wheel, reviewing his life bolstered by photos of his parents and him as he passes through life's stages to 2 years in the army during the Korean War to his study at Alfred University, studying with Daniel Rhodes, his marriage to Elsie, to the time of the NCECA video. He is a founding father of NCECA.
Casserole demo, 45 min. I had read about a potter's wheel set-up in which there is a concave top, allowing a plaster bat to sit: no need to use slurry to keep it in place. Right-handed, it seems that he holds his right hand almost palm up, using mainly the strength of his middle finger to draw the wall up.
He's a practitioner of tapping the piece to be trimmed into center and keeping it there by holding it down with a lid. Seeing this repeatedly almost makes me want to try the technique again.
Trimming the inverted casserole base, he paid attention to grooving the area immediately under the foot ring to keep glaze from running down the foot ring onto the kiln shelf. The few tools he used did the job for that as well as smoothing the grog down so that the surface would better accept glaze.
Two doughnut shapes are thrown and finished differently, so that he can decide which he prefers for the handle.
Roll top demo, 33 min. Think of the contour of an apple coming in at the top and you have the genesis of his roll top form with base for the base and handle for the top. Consistent with all his actions on clay in the demonstrations are the philosophy and reasoning behind them.
Portfolio, 18 min. He closes each decade of his production as it ties into the prevailing art ethos with a quotation or poetry which increases his gentle stature all the more.
You are providing a wonderful service." V.R.