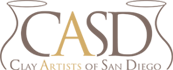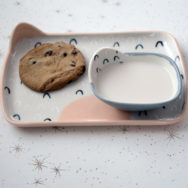 Breaking The Surface with Adrienne Eliades
Date:

Oct 7, 2017
Ages:
Price:

$90-$125
Type:

workshop
Location:

650 Avenue D, Coronado, CA
Clay Artists of San Diego presents:
Breaking the Surface
A Workshop with Adrienne Eliades
October 7-8, 2017
9 am – 4 pm
Hosted by Coronado High School
$100 ($90 early bird, by Sept 10th) for CASD and affiliated Members
$125 for non-members
Join us for a 2 day demonstration workshop with Adrienne Eliades as we explore the intrigue of the repeating pattern. This presentation will demonstrate how to design, print, and apply stencils for resist decoration on hand-built and thrown functional ceramics using a KLIC-N-KUT Zing Air Die cutter. Adrienne will demonstrate how she integrates dynamic surface on clay work using a vocabulary of personal expression through abstract drawings, patterns, found imagery and more with influences from her research of 20th century domestic spaces.
Demonstrations will include applying several surface techniques to her forms using slip, underglaze, newsprint paper, bamboo paper and tyvek paper. This is not a hands on class but we hope to include a group activity designed to create opportunities for surface exploration and design development in our own studio practices.
Adrienne is currently a studio potter in Vancouver, WA. She earned a B.A. degree from the University of North Carolina, and an MFA degree from the University of Florida. She was an artist-in-residence and a Ceramic Technical Specialist for 2 1/2 years at SDSU and is a frequent workshop assistant at Idyllwild's Hot Clay summer sessions. Adrienne was also a presenter at this years NCECA Conference in Portland, OR.